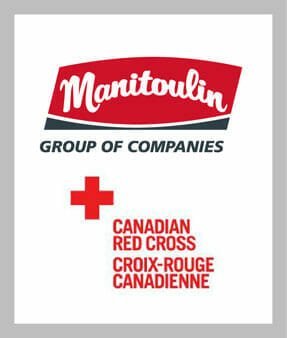 Mississauga ON – Manitoulin Group of Companies and its staff across the country have donated $24,370 to the Canadian Red Cross  to help those impacted by the Fort McMurray wildfire disaster.
Through the Government of Canada's commitment to match the portion of funds donated by employees ($12,185), the total contribution is $36,555. The company has also donated transportation services to get essential supplies into the area.
On May 3rd, when massive wildfires triggered the largest fire-related evacuation in Alberta's history, tens of thousands of people were forced to leave their homes in more than 12 communities, including Fort McMurray. Only recently have residents been allowed to start to re-enter the city and begin to rebuild their lives.
"We have a terminal and staff in Fort McMurray," said Don Goodwill, president, Manitoulin Group of Companies. "So when the fires broke out, our first thought was for our people there and their families. We were relieved to learn they were safe. Like everyone, we were horrified by the images on the news of the destruction and heartbreak this disaster has caused. We knew we had to do something to help make things better."
Manitoulin Group of Companies initiated a fundraising campaign among its staff across the country through the Canadian Red Cross. The initiative included financial support from the Smith family, Manitoulin's founders, who encouraged staff contributions by committing to match them.
"Our staff have opened their hearts to those impacted by these terrible fires," said Gord Smith, chief executive officer, Manitoulin Group of Companies. "I am touched by this positive reaction and how we have come together to help our fellow co-workers, their families and friends, and the city of Fort McMurray during this time of great need. I believe this response reflects Manitoulin's culture and its desire to contribute positively to society, both in communities at home and around the world."
In addition to the financial contribution made to help get people back on their feet, Manitoulin has donated transportation services to the cause and continues to do so. Manitoulin intends to continue to provide help in this manner and is directing requests for such services to donations@manitoulintransport.com.
"We have the means to help in a practical sense so we are doing what we can," said Smith. "And we plan to provide further support to help re-build the community."
Manitoulin's Fort McMurray terminal was not damaged by the fires. It re-opened on Friday, June 2 and normal business operations have resumed.
Share This Story, Choose Your Platform!