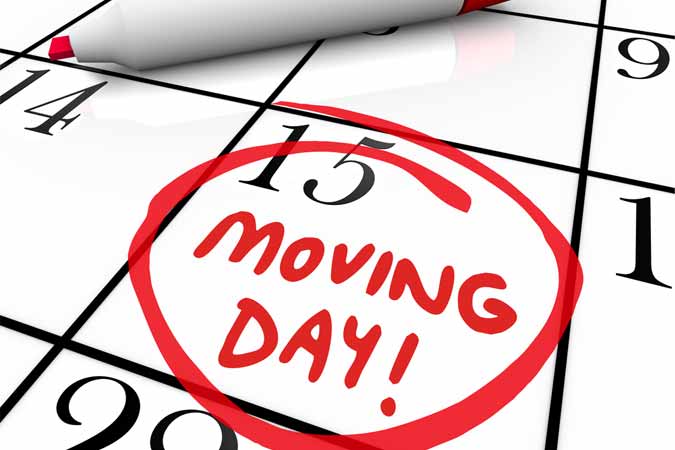 Big changes and responsibilities come together on moving day in what can be a stressful situation. Thankfully, planning, organization, some guidance from the pros, and help from a trusted moving company in Edmonton can ensure your move goes smoothly!
Tips from Your Experienced Calgary Movers
Prepare your belongings, self, and movers with the tips below and you can beat the stress and chaos that so many of us have come to associate with relocating. The task can seem daunting at the start, but getting your home in order is crucial for a speedy moving day and seamless unpacking process.
Get the ball rolling as soon as possible and follow these simple tips:
Schedule – Even if you aren't big on setting deadlines, a schedule will help you (and the whole family, if they are making the move) stay on track for a successful move. Create a calendar four weeks prior to the moving date. If it's easier, bundle tasks by week until the final week before the move and check them off as you go. A plan will ensure you don't get caught in a frenzy trying to reach the cable company you forgot to call as the movers arrive! You'll thank yourself when you can get some sleep the night before the move.
Book – Moving dates usually aren't flexible, so hiring a reputable Calgary moving company as soon as possible is important. Keep in mind that you get what you pay for and hiring a reliable company is important. Get a free quote today and check one more item off your 'to do' list. If you have flammable items, perishable foods or plants that need to be relocated, discuss the details and policies with the moving company.
Purge – That stack of textbooks you haven't opened since university? Now is the perfect time to donate them! Start getting rid of unnecessary belongings. Don't be fooled into thinking you will get rid of things once you are in your new space – just don't bother bringing them! Fewer items to move means a faster, easier, and more inexpensive moving day.
Look Closely – If there are lighting fixtures, electronics or other fixtures that are installed or wired into your home, you will need to uninstall them before moving day. Movers will transport belongings but aren't accountable for these types of items.
Communicate with Movers – Tell your residential movers about any fragile items, special considerations, and requirements for loading or unloading. Straightforward labels can be a great way to help everyone determine where boxes should be left in the new home. If you have used a colour-coded system or have specific concerns, be upfront and talk about your needs beforehand or at the start of the day.
Discuss Details – Set expectations with children and/or partners, and be sure to think about practical needs like eating and using the bathroom at both homes. Keeping a phone number for pizza and a set of linens, soap, and toilet paper handy will keep everyone energized and comfortable throughout the day.
Hire Reliable Calgary Movers in Edmonton and Calgary
Want to learn more about how to make your move as painless as possible? Check out our moving resources or contact Matco Moving Solutions to schedule your team of trusted movers.
We can take care of your short or long distance moves, big or small. From student apartments to large family homes, rely on Matco Moving Solutions for our years of experience and expertise moving families across the country or border.
Call us today at 1-800-661-3618 or get your free quote online.
Share This Story, Choose Your Platform!