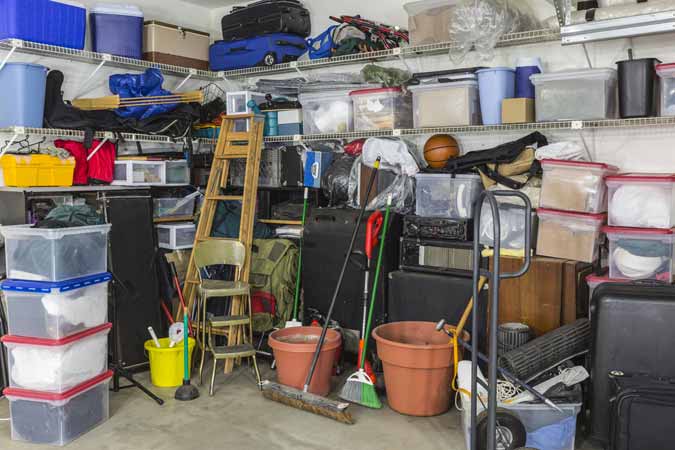 The garage becomes a catch-all storage shed for many families. Long forgotten hobbies, seasonal equipment, decorations and debris can quickly gather and collect dust. The result? A packed and often mysterious garage that rarely gets a proper clean out.
Pack Smart and Work with Reliable Residential Movers in Edmonton and Calgary
If you are moving, cleaning out the garage will be forced upon you. Don't be scared! A few simple tips for sorting through your goods and packing oddly-shaped items will allow you to tackle the garage as smoothly as the rest of your home.
Tips for Packing Your Garage
Whether you have decided to take it on first, somewhere in the middle, or leave it until the bitter end of your packing, the garage presents its own unique challenges. Your residential movers serving Edmonton & Calgary will be able to assist you with loading, unloading and unpacking, but you'll need to do some legwork to get to that point.
Here are a few strategies for getting your garage in order before moving day:
Allocate Time – Even if your garage is more like a 'shed', these areas are prone to presenting surprises. Schedule ample time to sort through, discard, and donate items. That usually means setting aside an entire day or weekend and leaving you enough time to drop off items at the trash disposal or local charities or arranging a storage facility. If you have some items you know you will want to sell, give yourself additional time before the move.
Eliminate Excess – If you find forgotten, broken, or outdated tools, equipment or belongings, be realistic about its use in your next home. It is inefficient to bring it from place to place if you will never use it, so don't be afraid to take this opportunity to pare down your items.
Be Prepared – Once you have a handle on what you really need and what will be coming with you on moving day, you'll want to ensure you can pack and organize it quickly. Having the right materials at hand will make this much simpler. Boxes, bubble wrap, blankets, and markers for labelling should all be ready to go when you start organizing. Be sure to have sturdy boxes in a variety of sizes.
Group Items – Odds, ends and all kinds of awkwardly shaped items find their home in the garage. Group items of similar sizes together for easier packing. Tie hockey sticks, brooms, shovels, and other long items securely together. Put tools in a designated toolbox so that they can be found easily. Be conscious of weight so that boxes or bags can still be moved.
Hire Reliable Movers in Calgary and Edmonton
Once packing is complete, allow a reputable residential moving company to take over. With fast, efficient methods, helpful resources and friendly service, you can rely on Matco Moving Solutions for comprehensive services. We are proud to provide moving services in Calgary, we also have a location with movers in Edmonton, and serve all of Alberta, Northwest Territories & Yukon. Start early, start smart and your move can be enjoyable from the attic to the garage, and from sorting to unpacking.
Get a moving quote for your Calgary or Edmonton move today. Contact Matco Moving Solutions at 1-800-661-3618 for support and expertise at every stage of your relocation.
Share This Story, Choose Your Platform!