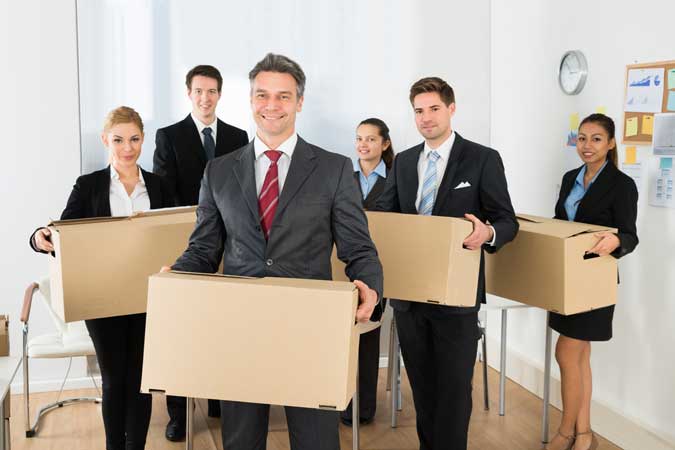 Moving can be one of the most stressful events, which is why it's important to prepare your employees in advance and ensure they feel comfortable and excited during the entire process.
Start planning early and give yourself a minimum of nine to twelve months ahead of the moving date. Starting early also ensures you have sufficient time to determine a moving budget and assign funds appropriately.
Advice from the Leading Office Movers in Calgary and Edmonton
Creating a schedule and outlining every aspect of the move can help keep your staff members organized and on track of what needs to be moved and when along with other considerations including:
Hiring professional packers and office movers in Edmonton
Creating a new office plan and layout
Speaking with your current vendors
When to forward mail and shipments to the new address
Setting up new services, including Wi-Fi and utilities
Creating a communications plan between everyone involved in the move
Designate one or two employees on your team to take charge of project managing your office move. Give these individuals enough authority to make decisions pertaining to the move. Choose those who have good organizing skills, are experienced in coordinating team projects, and have the ability to communicate with other team members as well as with your office movers.
Tips for Efficient Commercial Moving in Calgary and Edmonton
An office move can be a fun team-building experience, but it's also important to ensure your employees understand the severity of moving and storing private information and files. As an employee in charge of managing the move, you need to be very clear about how you should proceed with classified documents or other important items. Ask your employer questions such as:
How should you pack and store confidential files?
Who should have access to this information?
Should they be stored in a climate-controlled area?
What should you be taking to the new location?
What are you not allowed to take?
How should you label the boxes?
When is the move taking place?
What are your responsibilities?
How should you manage unwanted items?
Before packing the computers in your office, employers should stress the importance of having their employees remove all of the disks and flash drives from the computer systems. Take care to label all of the connecting cords for quick and effective assembly at the new office. Packing and sealing the computers in appropriate boxes will ensure that all parts are accounted for when the move takes place. It is also wise to indicate that the contents are fragile and that the box contains a computer or monitor.
 Pro Office Movers Equipped to Handle Any Type of Move
Are you in need of a professional moving company for your office move? Matco Moving Solutions has the knowledge, experience and equipment to relocate your company to any city or rural community. We guarantee that your corporate belongings will be in safe hands; we always take a proactive approach during the entire moving process. We have over 50 years of experience and can provide several resources to help make your move seamless and worry-free. You can also count on us for additional services like packing and storage solutions to meet every unique moving situation.
Get your free quote online for your office move today. Please call us at 1-800-661-3618 and one of our professional movers in Calgary or in Edmonton will help answer any questions you may have.
Share This Story, Choose Your Platform!