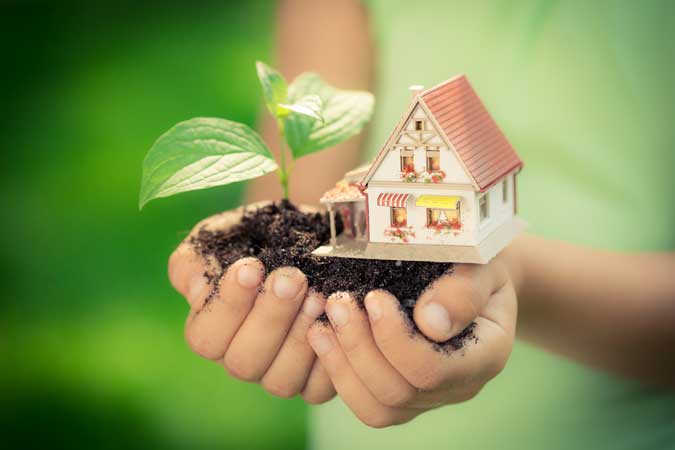 Many people want to do their part to protect the environment in their everyday lives, moving day included. The green movement has been adopted by many industries, including the moving industry. 'Green moving' is simply residential home moving with a conscious effort to make environmentally friendly choices regarding packing materials, recycling your belongings, transportation and more.
If the thought of all those cardboard boxes and styrofoam packing peanuts makes you cringe, then use the steps below to reduce your impact on the environment during your next home move.
Purge and Donate Your Unwanted Belongings
Moving is the perfect time to go through your things and get rid of the items you no longer use or need. Be honest with yourself; if you haven't worn that pair of acid-washed jeans since the '80s, it's time to part with them. Reducing the number of items you pack, means fewer packing boxes and a lighter load on the truck, decreasing fuel consumption (fewer items also means the cost of hiring home movers will be less, win-win!). Donate, hold a garage sale, or sell items online. You may not use the lava lamp from your college dorm room anymore, but someone else might think it's still groovy.
If you choose to donate unwanted items, there are many routes to go. You can donate clothes in drop boxes or to women's shelters. Unused non-perishable goods are great for food drives and food banks, and friends and family always appreciate freezer meals. Furniture can be donated to places like the Salvation Army, or you can participate in a neighborhood roundup. If you really aren't sure of the best place to donate, ask your home moving consultant! Sometimes moving companies team up with local charities to make donations as easy as leaving a "Donate" pile in your house during the move. This way, you can feel good about helping your community while also saving the planet.
Be Creative With Packing – Use Boxes As A Last Resort
Begin by packing your belongings in containers you already have. Pack suitcases and fill up plastic totes, as this will help to cut down on the number of boxes you'll use.
It's unlikely you can fit your entire house in a few suitcases, and you'll eventually require boxes. Your home movers can tell you how many boxes you'll require based on the amount and size of the items you are moving. This way you don't have to worry about over-purchasing and underutilizing.
To go the extra mile, while also saving a few pennies, ask your home moving consultant about purchasing used boxes and packing materials. When completing a full-service move, the moving company will remove the boxes and packing to either use them again or sell them. This reduces landfill waste and extends the life span of typically single-use items.
Use Eco-friendly Packing Materials
Use green alternatives to styrofoam packing peanuts and bubble wrap. An excellent alternative to styrofoam peanuts is biodegradable peanuts; the peanuts dissolve in water and won't pollute the groundwater supply. Compostable packaging peanuts safely dissolve in the landfill.
Another great option is to use items you already have at home to protect fragile belongings. Use old newspapers or even sheets and towels as packing materials. You have to pack your sheets and towels regardless, might as well put them to good use. Use blankets to protect larger items and furniture.
Eco-friendly moving really means making the most of what you already have, so don't be ashamed to use old clothes or rags to wrap things up. Your home movers will love the ingenuity and dedication to sustainable living. Just be sure that everything is safely wrapped to prevent damage!
Choose The Most Efficient Form Of Transportation
A quality moving company is able to assess the number of items going into the moving truck and will bring the right sized truck on your moving day. Professional home movers also have the skills to expertly pack the truck, maximizing space and reducing the number of trips. Keep in mind that a quality professional moving company employs strict driving standards, which reduces the amount of gas and carbon dioxide emitted.
Your eco-friendly movers will likely display professional affiliations and standards on their website or advertising materials. These affiliations show a commitment to sustainability and high standards. Be sure to do your research on a reliable and trustworthy company, and rest assured knowing that you're doing your part for the planet, and so are your home movers.
Planning an Eco-Friendly Move?
Matco Moving Solutions can help you with your local, long-distance or international move. We are a full-service moving company that is dedicated to delivering a stress-free and positive moving experience. We have locations in Toronto, Kitchener, Calgary, Edmonton, Yellowknife, Whitehorse and Inuvik and over 55 years of moving experience and expertise.
Contact our home movers today for a free moving quote and to learn how Matco can help you with your next move.
Share This Story, Choose Your Platform!