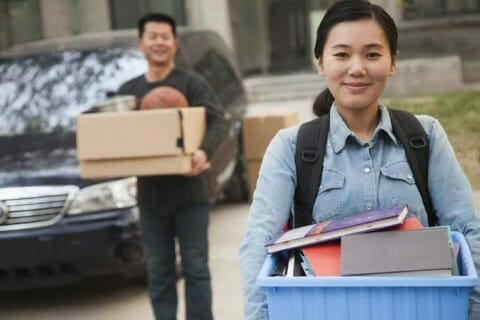 You may be considered fortunate if your child picks a college or university nearby and continues to live at home. If that does not happen, you will be helping your college student relocate this fall.
Long distance moves, especially for college students, can be not only emotionally trying but expensive too. Luckily, there are steps you can take to help get your college student ready and save yourself the stress and the extra dollars involved with multiple trips back and forth.
Tips for Helping Your Student Move to College
Heading off to college is an exciting time for any young person. It is all about a new adventure, new friends, new environment and a glimpse of what it is like to be an adult. No matter how far the move, whether it is a few towns over or headed across the border into the United States, you need to get everything ready before the first class starts.
Here are a few tips to help prepare your student for the upcoming long-distance move:
Sort Everything – Typically, your long distance movers in Calgary will base their rates on how much space will be required in the moving truck as well as the estimated weight. You can save significantly by seeing that your student is not taking along unnecessary junk they do not need. Sort the items they actually need for college and verify what furniture they will need for their apartment or dorm room.
Plan for the Season – The demand for long distance movers is at its peak right before school starts. You can help make it easier to find an available mover and possibly save some money by pushing your move into the off-season. That might mean having your student relocate a few weeks before school is expected to begin (or end).
Have Certain Items Shipped to Them – If you need to purchase anything for your student, you do not have to do so before they move. Instead, buy online and have it shipped to them. This saves on the cost of the move and often you get free shipping from an online retailer
Expert Long Distance Movers in Edmonton and Calgary
When moving a college student, you need a long distance moving company you can trust, whether the move is an international move from Edmonton or Calgary or a local move within the province. Matco Moving Solutions has been helping college students relocate to their student accommodations across the country and even into the U.S.
Take a look at our moving checklist to make sure you and your student are organized and well-prepared for the move. Then, get your free quote online for the move or give us a call at 1.800.661.3618.
Share This Story, Choose Your Platform!