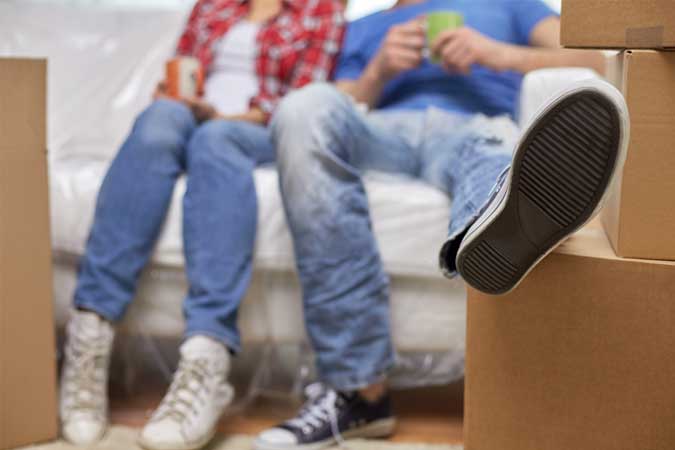 Moving into a new home is one of the most exciting experiences, but can also be among the most stressful times in your life.
There is so much that goes into ensuring your home is functional and safe for your family before you can actually put your feet up and relax. From changing the locks and repairing any structural damage to having your new alarm system and cable installed, it can be a multi-tasking, high-stress event but also a positive and rewarding experience.
Moving into an empty home presents the perfect opportunity to paint or wallpaper your walls, ceilings and closets without having any clutter in the way. Specialized moving companies in Edmonton can provide you with climate-controlled storage solutions so you can take advantage of your empty space and prepare your walls before moving in your upholstery, paintings, artwork, etc. If you need to change and install new flooring, it is best to do so before moving in.
Plan Ahead with Trusted Moving Services in Edmonton, Calgary, and Alberta
One thing to consider in order to take some weight off of your shoulders during your new home move is hiring one of the most trusted moving companies in Edmonton. Professional movers can take much of the stress away by packing, storing and delivering all of your belongings to your new location. This will allow you to spend more time taking care of the essentials, including:
Inspecting your delivered boxes
Getting your utilities up and running
Unpacking the important items to make your home functional
Inspecting your house thoroughly and making note of any new damage previously unseen
Changing the locks to ensure you and your family are the only ones that have the key to your new home
Installing smoke alarms and carbon monoxide detectors
Childproofing your home
Connecting your new appliances
Focusing on organizing your home
Getting the professionals to do a deep cleaning in the house
Changing your address and updating your contact information on all important documents and accounts
Leave Your Worries Behind with a Reliable Moving Company
Matco Moving Solutions, a leading full service moving company, has been providing home and business owners with superior moving and storage services for 50 years. We know that moving is one of life's tough challenges and can significantly affect your well-being. That is why we do what we do – to help people transition with ease and take the time to actually enjoy their move. We treat every move like it's our own, handling all belongings with extreme care and always ensuring positive customer experiences on all fronts.
Not sure where to begin with your new move? Matco Moving Solutions' movers in Calgary, Edmonton, Fort McMurray and the Northwest Territories can guide you through the entire process so you can have peace of mind and comfort knowing you are in good hands.
Get a free quote online or give us a call today at 1.800.661.3618 to learn more about our moving services in Edmonton.
Share This Story, Choose Your Platform!