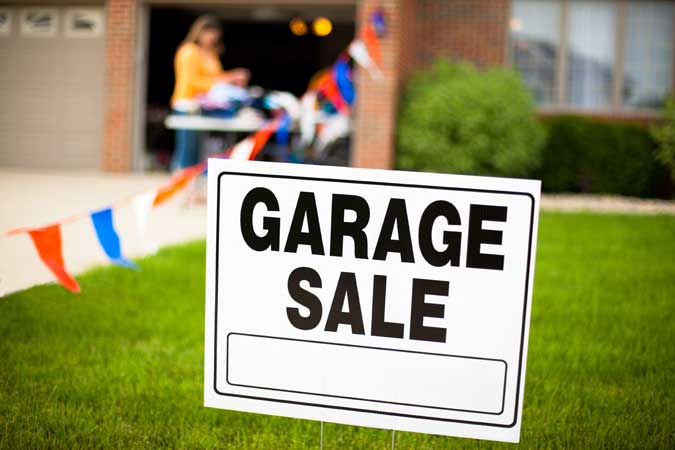 Planning a move is often an enlightening experience in many ways – one of which is realizing just how much stuff you have! Oftentimes, a lot of this stuff is unneeded and unwanted, but not necessarily no good. A pre-move garage sale is a great way to upcycle and extend the life of your pre-owned goods. This blog highlights some tips for your garage sale before your local move in Calgary takes place.
Check City By-Laws
Some cities may require permits or have regulations on garage sales, especially concerning signage. If you're planning a garage sale in Calgary, there is a signage by-law that permits a maximum of three sale signs, and the signs must include specific information. Give your city information desk a call to sort out any details before you begin your planning.
Join Forces With Your Neighbours
Consider a joint sale with one or two neighbours. Inviting other people to take part in the garage sale allows you to share the work and have fun. Having more items can attract more customers and increase your potential sales, helping you move more of your unwanted items.
Pick A Date
Select a date, and keep in mind that it will take about two months to prepare for the sale. Garage sales held on Thursday, Friday, and Saturday generally get more visitors. It's also best to stay away from the holidays when locals are out of town. Plan an alternate date in case of bad weather, and give yourself a buffer between the sale and your local move in Calgary in case of any leftover items or unexpected events.
Decide What To Sell
Go through your home and make an inventory list of everything you plan on selling. Put aside collectables and big ticket items that might need to be appraised, and collect anything that can be used for the garage sale such as bags and newspapers.
Sort Items For Your Garage Sale
Put all sale items in the same place to get a visual of the size of your sale. This will also help with pricing and seeing which items may require minor repairs such as sewing a hem or glueing a loose piece.
Make sure all clothing and linens are clean and placed on hangers or folded neatly. Also, make sure sizes are clearly marked. Pair shoes together and mark sizes. If you have items that are damaged or not working properly, consider giving them away for free – someone who is handy may be able to fix them and prevent them from heading to the landfill.
Promoting Your Garage Sale
It's important to spread the word about your garage sale. Advertise in the local newspaper, on Craigslist and Kijiji, and on social media such as Facebook and Twitter. List any big-ticket items that you think will interest people. Tell people in your neighbourhood and invite friends and family. You may like to consider the sale as somewhat of a going away street party – a final chance to spend time with your old neighbours before your local move.
Place bold signs on neighbourhood bulletin boards, in grocery stores, community centres, laundromats, churches, and bus stations. The night prior to the garage sale, place signs in your neighbourhood with directional arrows and your address. Remember to follow any city by-laws and be careful to not overdo it.
Time To Sell
Set up a check-out table with a money box, newspaper to wrap fragile items, and bags for customers. Most importantly, remember to have fun. Planning and running a garage sale is a lot of work, but can be worth the time and effort before a local Calgary move. Recruit family and friends to help, play music to attract people, and use the time to mingle and say farewell to your neighbours!
Looking For Local Moving Services in Calgary?
Matco Moving Solutions can assist you with your local move in Calgary. We are a full-service moving company that is dedicated to delivering a stress-free and positive moving experience. We have locations in Toronto, Kitchener, Calgary, Edmonton, Yellowknife, Whitehorse and Inuvik and over 55 years of moving experience and expertise.
Contact us today for a free moving quote and to learn how Matco can help you with your local move in Calgary.
Share This Story, Choose Your Platform!