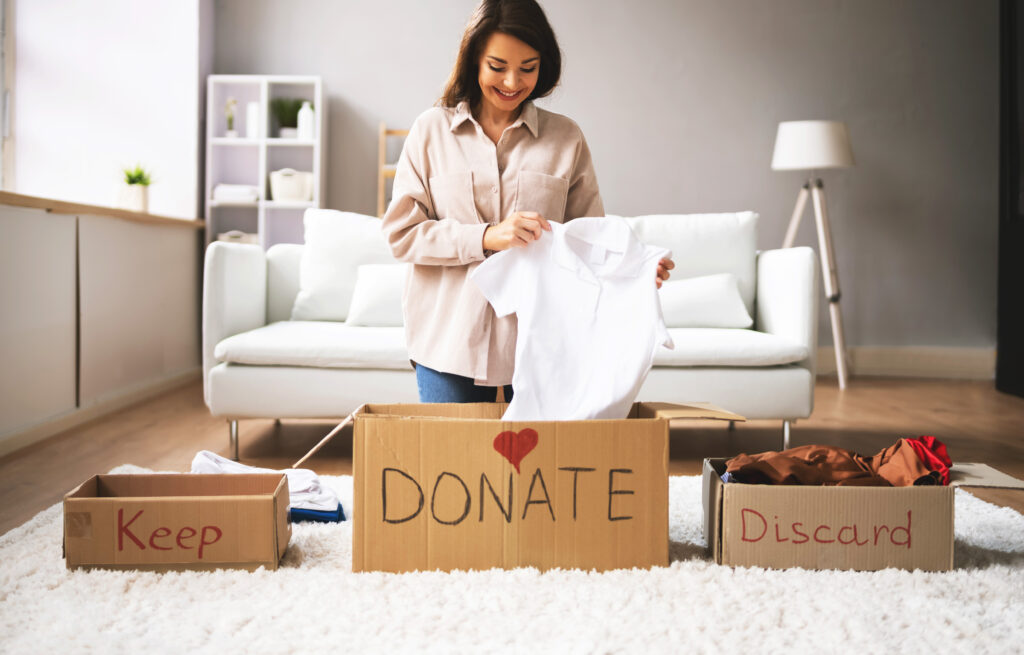 Moving can be an overwhelming process, especially when you consider the amount of stuff you need to pack and transport. However, decluttering before your local move can help you streamline the process and make the move more efficient. By purging unnecessary items, you'll not only reduce the amount of stuff you need to pack and transport but also create a fresh start in your new home. In this blog, we will provide you with some valuable tips and suggestions on decluttering before a local move in Calgary. So, let's dive in!
Start Early
When it comes to decluttering, the key is to start early. Begin the process at least a few weeks before your moving date. This will give you enough time to go through each room systematically without feeling rushed or overwhelmed.
Room-by-Room Approach
To maintain organization and efficiency, take a room-by-room approach to decluttering. Begin with less frequently used areas like the basement, attic, or garage, and then move on to more lived-in spaces like the bedrooms, kitchen, and living room.
Living Room:
Consider donating or selling old furniture that no longer fits your new space or style.
Discard or recycle old magazines, newspapers, and other paper clutter.
Evaluate your DVD or CD collection and consider digitizing them or donating those you no longer use.
Kitchen:
Dispose of expired food items, spices, and condiments.
Get rid of chipped or unused dishes, pots, and pans.
Donate or sell small appliances that you rarely use.
Bedrooms:
Donate or sell clothes that no longer fit or haven't been worn in a long time.
Clear out old and worn-out bedding, pillows, and linens.
Eliminate excess shoes, accessories, and unused toiletries.
Bathrooms:
Discard expired medications, skincare products, and cosmetics.
Toss old and worn-out towels, bath mats, and shower curtains.
Organize toiletries and keep only the ones you regularly use.
The "Three-Box" Method
The "Three-Box" method is a practical approach to decluttering. Use three labeled boxes or bags: one for items to keep, one for items to donate or sell, and one for items to discard.
Consider Local Donation Centers and Charities
In Calgary, several local donation centers and charities gladly accept gently used items. Consider donating furniture, clothing, household goods, and other items to organizations like the Women In Need Society (WINS), or the Salvation Army. This way, your unwanted items can find new homes and benefit those in need.
Garage Sale or Online Selling
If you have valuable items that you no longer need, organizing a garage sale or using online platforms like Kijiji or Facebook Marketplace can be a great way to sell them and make some extra cash. Remember to plan the sale well in advance to ensure maximum exposure and success.
Digitize Documents and Photos
In the digital age, it's much easier to store important documents and photos electronically. Consider scanning and digitizing important paperwork and old photographs to reduce clutter and save space. Back up your digital files to multiple locations or cloud services for added security.
Dispose of Hazardous Materials
Properly dispose of hazardous materials such as old paint cans, expired chemicals, or unused batteries. Contact your local recycling center or waste disposal facility to find out the proper procedures for disposing of these items safely and responsibly.
Conclusion
Decluttering before your local move in Calgary is a smart and practical step that will make your local moving process smoother and more enjoyable. By following the tips provided in this blog, you can efficiently sort through your belongings and only bring the items that truly matter to your new home in Calgary.
Decluttering is not only about getting rid of unnecessary things but also about creating a fresh and organized space that reflects your new beginning!
Looking for Professional Local Moving Services in Calgary?
Matco Moving Solutions can help you with your local, long-distance or international move. We are a full-service moving company that is dedicated to delivering a stress-free and positive moving experience. We have locations in Calgary, Edmonton, Yellowknife, Whitehorse and Inuvik and over 55 years of moving experience and expertise.
Contact us today for a free moving quote and to learn how Matco can help you with your next move.