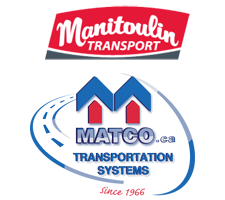 EDMONTON AB – Manitoulin Transport announced today that it has acquired Matco Transportation Systems of Edmonton, Alberta.
Established in 1966, Matco is a fully integrated Canadian transportation services company providing domestic and international freight, household goods relocation services and warehousing. Its geographic focus is Edmonton and Calgary in Alberta, the Northwest Territories and Yukon.
Matco is the second transportation company Manitoulin has acquired in the last four weeks and its fifth acquisition since May 2012. This demonstrates Manitoulin's continued push to further strengthen its service portfolio and its reach across Canada. The acquisition of Matco also signifies Manitoulin's entry into the household goods relocation market, an area it considers to hold significant growth opportunity.
"We are delighted to announce that we have purchased Matco, a company known for more than forty years for its exceptional customer service, professionalism and expertise," said Don Goodwill, president, Manitoulin Transport. "This brings together two highly complementary businesses which should significantly benefit both Manitoulin and Matco customers. Manitoulin customers now have the benefit of accessing expertise in the household relocation business, as well as even greater coverage in Canada's northwest. Matco customers now benefit from easy access to Manitoulin Group of Companies full suite of services, and can continue to experience the same high level of customer service they have come to expect."
Matco has seven terminal locations in Edmonton, Calgary, Inuvik, Norman Wells, Yellowknife, Hay River and Whitehorse. Matco will be lead by Wayne Wishloff, Vice President and General Manager and founding partners, Lloyd and Ray Anderson, will stay on in a consulting capacity.
Share This Story, Choose Your Platform!